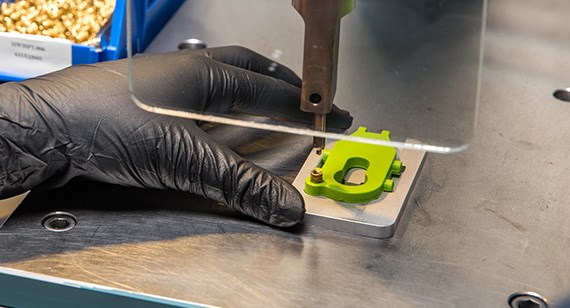 Applications for threaded inserts in injection-molded parts abound. They are common features that show up in a range of industries and in a variety of parts—housings, casings, electronic enclosures, appliance knobs and dials, etc. The two methods we use at Protolabs for threaded inserts, if insert molding is not an option for your design, are heat staking and ultrasonic welding, injection molding processes by which a molded thermoplastic part is locally melted to allow the insertion of another part. Both options offer tightness, durability, and aesthetics for plastic parts.
Heat staking is the process of heating threaded inserts and press fitting those inserts into part geometries, an application that relies on precise control and application of the temperature and pressure to cause the reforming of the plastic. Heat staking is commonly used in the manufacturing of appliances, automotive parts, and components and equipment for the telecom industry. At Protolabs, this option is only available for threaded inserts as we are not able to accept custom inserts at this time.
Ultrasonic welding is typically used for plastics. The process deploys high frequency ultrasonic acoustic vibrations in a localized area to press fit inserts into part geometries, creating a solid-state weld. You'll see this process used for parts in medical devices, automotive parts, aerospace components, and electronic assemblies. Like heat staking, ultrasonic welding is currently open to threaded inserts at Protolabs, and custom inserts are not accepted. Lead time for both of these processes adds five-plus business days to your parts order.
Inputs for Heat Staking, Ultrasonic Welding
The required inputs we would need from you in order for us to provide these threaded-insert services are:
a CAD/part link
a 2D drawing noting the insert type and location
an assembly CAD if possible
the part material
the quantity of parts requiring inserts.
Threaded inserts are part of a wide selection of finishing options for injection molding that we offer, which provide a number of benefits: strengthening parts, improving cosmetic appearance, providing customization, and so on. Beyond threaded inserts, these include: mold texturing, custom color matching, pad printing, laser engraving, and basic assembly. These finishing options add to our capabilities as a single-supplier manufacturer with in-house tooling and part production. You can use us from start to finish for your parts: from early development and prototyping, through on-demand production of end-use parts, and secondary options and finishing.
https://vmtcnc.com/wp-content/uploads/2019/09/news1.jpg
308
570
admin
https://vmtcnc.com/wp-content/uploads/2019/07/logo.png
admin
2019-09-04 10:20:08
2019-09-04 10:21:23
Threaded Inserts with Heat Staking and Ultrasonic Welding